November 14, 2019
Our Holiday Wish List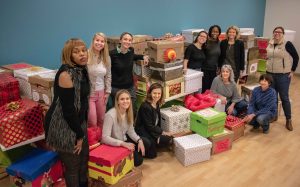 You can make a difference and inspire hope in the lives of women who are working to overcome their homelessness for good. This holiday season, 30 more women will have a safe home and access to our life-changing services through our new housing program, Reach Up.
With the holidays approaching, we are in need of several items that will help us welcome more women home into our programs – especially as we prepare to open the doors to Reach Up in November.
Please consider donating the following new, unwrapped goods to Calvary, ensuring women know they're home when they arrive at Calvary for the first time:
Gift cards to CVS, Target, Walmart or local grocery stores
Microwave
Iron
Toaster
Watches
Umbrellas
Flip-flop sandals
Bathrobes (S-3X)
Slippers
Pajamas (S-XL)
Pillows
Pillowcases
Twin comforters
Twin sheet sets
Queen sized sheet sets 
Queen Bed in a Bag 
Towels 
Kitchen and Bathroom rugs
Shower curtains
Curtain/drapes
Washcloths
Movie passes
Full-sized body wash, lotion, toothpaste and deodorant
Clorox disinfectant wipes
2020 calendars
Journals
Resume portfolio folders
Please ship or deliver donations to:
Calvary Women's Services
ATTN: Stacia Frederick
1217 Good Hope Road SE
Washington, DC 20020
Check out our Amazon holiday wish list page to order items and send them directly to Calvary. (Please include a gift message with your name and address for inventory and acknowledgment purposes.)
To download a printable version of our wish list, click here.
Questions? Please contact Stacia Frederick at (202) 678-2341 x233 or sfrederick@calvaryservices.org. Thank you for supporting women at Calvary who are achieving their independence.

Apartments at Calvary's new housing program, Reach Up