November 7, 2019
Volunteer Spotlight: Ezell Battle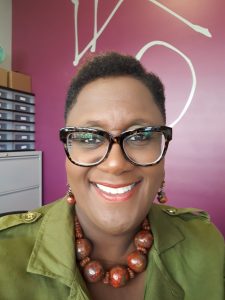 Ezell Battle has joined us this fall through the Oramenta Newsome Fellowship at our partner organization, LISC (the Local Initiatives Support Corporation). With her background in human services work, management, and education, she has done a wonderful job supporting Calvary's job placement program, Step Up DC.
We took a moment to speak with Ezell about her experiences at Calvary which have included helping to coordinate our Fall Career Fair, providing one-on-one support to job seekers, and leading workshops on writing resumés and cover letters.
How did you first get involved with Calvary Women's Services?
I first found out about Calvary when I was applying for a fellowship at LISC. I told the LISC staff that I wanted to be in an environment where I could empower women, and based on my background they suggested I look at Calvary.
What's your volunteer role at Calvary?
I find my role to be very diverse at Calvary. My main objective is to support the job placement program, Step Up DC. When I first arrived, our biggest project was preparing for the Fall Career Fair. I helped reach out to prospective employers and followed up with women who were interested in attending. I have also led workshops and provided tips and support to women during their job searches.
What's your favorite experience volunteering at Calvary so far?
I would say watching the women as they walked out of the career fair was a special moment. Most women were very thankful, and they felt that they had really connected with potential employers. Participants enjoyed the intimacy of the smaller space in contrast to a really large career fair. I loved the energy of the event and it felt like there was a sense of hope among the participants.
I also appreciate working with Angie Lee, Calvary's Workforce Development Manager.  She listens to the Step Up DC participants and identifies community partners who are willing to hire them, which is critical for their stability.
Has anything surprised you during your time at Calvary?
I think it's been very enlightening to see the range of opportunities available to women here. There are so many great topics covered in the education programs like financial wellness. In Step Up DC, we're able to work directly with women one-on-one to create updated, modern resumés and help them feel confident while presenting themselves to employers.