December 13, 2019
25 Years at Calvary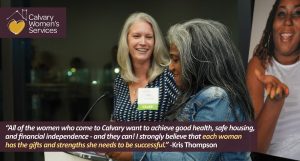 I'm excited to celebrate my 25th anniversary as Chief Executive Officer of Calvary Women's Services. It is a privilege to lead an organization dedicated to empowering women to transform their lives. By offering safe housing and comprehensive health, education and employment programs, Calvary supports women as they achieve their goals and end their homelessness.
We have so many incredible accomplishments and milestones to be proud of at Calvary. Most recently, we expanded our housing capacity by 80%, including beds specifically for women who are fleeing domestic and intimate partner violence. As our city continues to experience rapid growth, the number of homeless single adults in the District is rising. Calvary has responded to this need by opening our new housing program, Reach Up.
Over the last several years, we have also:
Purchased and renovated a building in ward 8's Anacostia neighborhood and increased our housing capacity by 45%, our biggest expansion up until we opened Reach Up.

Expanded our permanent supportive housing program, Sister Circle.

Founded Step Up DC, our workforce development program, in response to women's requests for employment services.
Provided leadership to the Interagency Council on Homelessness (ICH) Women's Task Force and the Women's Need Assessment survey project which led to a deeper understanding of the needs and conditions of single, unaccompanied homeless women in our city.
I am so proud of our accomplishments, but the best part of my job is when women stop by my office to share their good news. Monica knocked on my door last week and wanted to tell me about her new home. She recently moved into her own apartment. Monica told me that when she stepped through the door of her new apartment, she turned to look at her case manager and said, "I never thought I would make it this far, but you all helped me realize that I could do more with my life. Look at this…my own home!"
As Monica continued to tell me about her new home, I was reminded of how Calvary's holistic approach and trauma informed care make such a difference in women's lives. Before she came to Calvary, Monica had been broken by an abusive relationship. Today she is thriving. She has a job and a place to call home.
Calvary will continue to explore and implement innovative solutions as we strive to live out our mission of ending homelessness, inspiring hope, and transforming lives. I'm so grateful to our amazing staff, our supporters, our volunteers, and our community partners for embracing this mission and working to turn our vision into reality. And thank you especially to all of Calvary's residents past and present. Your strength and resilience has inspired to me to come to work every day over the past 25 years.
Make a gift to support women overcoming their homelessness in honor of Kris's 25th anniversary.