January 21, 2020
Understanding Others Through Storytelling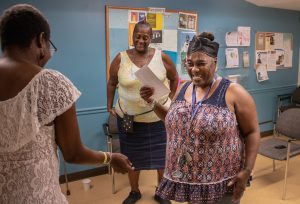 Ashley, who lives at Calvary Women's Services, stood up and told her story last week. She spoke with the confidence and ease that comes with years of storytelling, even though this was her first time telling her story to a group of people. After an empowering workshop with Story District, Ashley had the tools she needed to open up and share. The other participants listened intently and there was an air of understanding in the room that wasn't there before. One by one, the other women stood up and boldly told their stories and the understanding grew.
Calvary's relationship with Story District is a beautiful combination of partnership, volunteerism and understanding. Meredith, an active volunteer at Calvary, started her journey with us as a fellow through Service Never Sleeps. During her fellowship at Calvary, a staff member encouraged her to think of a class for LEAP (Life-skills, Education and Arts Program). Meredith did not disappoint! She reached out to Story District, told Calvary's story, and pitched her idea. "I wanted to give the women at Calvary a chance to feel the power that comes from storytelling. In addition to personal growth, there is a connection that forms with others when you share and listen to a personal story. It can be life-changing."
Women at Calvary Women's Services have now had the opportunity to attend two Story District workshops led by Molly, Production and Operations Manager and a junior coach at Story District. Molly starts the workshop by breaking the ice and sharing her story. Then there is pair sharing, learning the elements of a story, another pair share, and finally the grand finale – standing in front of the room and sharing a personal story with the entire group. "Telling your story is a vulnerable act, but there is nothing more empowering than knowing you are being seen, heard and understood. That is what Story District is all about and that is what we want to give to the women at Calvary," says Molly.
After each session, the women leave feeling more confident in themselves and connected to one another. Ashley said, "I was scared to get up there, but I also wanted to share my story for the first time. It felt so good and I feel like some of the women really saw me for the first time. It's hard to explain, but something in me changed. I am ready to keep sharing!" Storytelling seems so simple, but as we've learned at Calvary, it is much more than that. It is a powerful tool that can be used to heal, understand and grow.
We are so grateful for volunteers and partners like Meredith and Story District who are now a part of our story. They have taught us the beauty that lies in understanding yourself and others through storytelling and we cannot wait to continue growing with them.