February 14, 2020
Debra's Purpose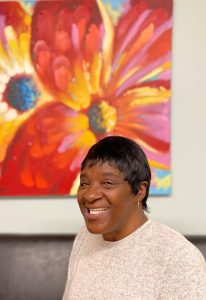 "I know I have a purpose. It is so clear to me now." This was Debra's first thought as she sat down to reflect on her time at Calvary Women's Services. Debra's journey at Calvary began after she lost her job of 9 years as a customer service representative. She describes herself as a shy introvert and never expected to like a job where she was constantly interacting with people, but she grew to thrive in that position. She won awards and the praise of her colleagues and supervisor and thought she had finally found the job she would be at until she retired. Just as Debra began to feel comfortable, there was a change in management, and she was let go.
Debra was devastated. "I didn't know how to start over at my age. Things had been going so well and just like that, I fell back into a life I had worked to leave behind years ago." Debra lost her apartment and turned to drugs and alcohol to try and cope with the unimaginable reality of being homeless. She had been struggling with addiction for 40 years, but this was her first time being homeless. "I was in denial. I couldn't actually be homeless." After months of struggling and denial, Debra walked into Calvary.
Debra was skeptical of the process at Calvary during her first few weeks, but soon grew to depend on the structure and relationships with the other women and staff. "For the first time in my life, I had time to learn about myself because I had support and time to think." Debra joined LEAP (Life Skills, Education and Arts Program) and Step Up DC (Calvary's job placement program) and attended relapse prevention meetings every day. She was ready to take back control of her life.
After living at Calvary's transitional housing program, Debra moved into Sister Circle, a permanent supportive housing program. "I think I was successful because I never felt rushed by a time limit. The staff encouraged me to take my time and steadily move forward. I needed time and support in order to get my life back and that is what Calvary gave me. I am so grateful for that." Debra is now working on securing her own home. Not only is Debra going to be a homeowner again, she has also become a certified recovery coach with the help of Step Up DC and Calvary's therapist. Debra looks forward to returning to Calvary to share her story with other women to show them where they can be if they work the program. "I can't wait to be a role model. I've done the work and now it's time for me to share my story."
When asked what Debra would tell women who are coming to Calvary for the first time, she smiled and said her answer sounded simple but took her so long to learn. "Do not let the stigma of being homeless define you. I've been there and it's a harmful place to be. You've got to hold on and relearn that you are worthy. Calvary will help you do that if you let it."