February 26, 2021
Calvary Women's Services Recognized with the 2021 Nannie Hellen Burroughs Humanitarian Award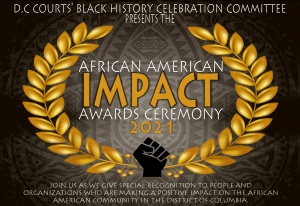 Calvary Women's Services is honored to have been recognized with the 2021 Nannie Helen Burroughs Humanitarian Award at the DC Courts' Second Annual African American Impact Awards.
Calvary's Chief Executive Officer, Kris Thompson, and Director of Programs, Fatima Bah, accepted the award on behalf of Calvary during a virtual awards ceremony on Friday, February 26, 2021.
During the awards ceremony Kris Thompson highlighted how Calvary has remained committed to maintaining programs and services throughout the pandemic, and Fatima Bah commented that "the pandemic forced us to provide services in a new way, but that also opened additional opportunities for empowerment for the women at Calvary. Calvary is focused on empowering women to know that they have the strength and knowledge to move forward."
According to Serena Agaba Rwejuna, President of Calvary's Board of Directors, "The hard work and commitment that Calvary and its staff devote to empowering women – and the ultimate impact that has on the African American community in DC – is truly a feat to be honored and celebrated!", Board Member Shingai Mavengere added "I am so proud to be a part of an organization that is making such a meaningful and remarkable impact in our local community."
From the DC Courts' Black History Month Committee:
Calvary Women's Services was submitted as a nominee and was selected based on your continued commitment to empowering women and helping them out of homelessness especially during the unprecedented circumstances of the past year. Your dedication to providing safe spaces for women and their families is to be recognized and celebrated.  We fully acknowledge with gratitude your dedication, compassion, and efforts in the betterment of the African American community and their allies in the District of Columbia.
The African American Impact Awards is an initiative of the DC Court's Black History Month committee to recognize organizations in the District of Columbia who are positively impacting and uplifting African American residents in D.C. The Nannie Helen Burroughs Humanitarian Award is presented to an individual or organization/agency in recognition of exemplary and sustained commitment to serving the people of the District of Columbia. 
Calvary was honored to receive this award alongside two other award winners. Law 4 Black Lives DC was honored with the Charles Hamilton Houston Legal Award. The Federal City Alumnae Chapter of Delta Sigma Theta Sorority, Inc. was honored with the Mary Church Terrell Community Service Award.