February 10, 2021
Celebrating Black History Month at Calvary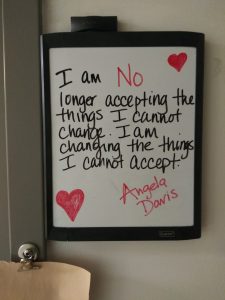 "I am no longer accepting the things I cannot change. I am changing the things I cannot accept." This is the quote by Angela Davis that hangs on the wall outside the classrooms at Calvary Women's Services. It serves as a reminder of the power each woman at Calvary has to change her own life and it sparked the first discussion for Black History Month for the women in the Life Skills, Education, and Arts Program (LEAP) at Calvary.
When starting to plan for Black History Month, one resident said she knew of Angela Davis but had never heard her speak. To kick off Black History Month, the LEAP program started by watching a video about the impact Angela Davis has had on global liberation movements.
LEAP will continue centering the work of Black women while learning about Black art and music this month. Next up on the agenda is celebrating Mardi Gras and learning about the music of New Orleans. In March, LEAP will celebrate International Women's Day.
According to Elaine, who leads Calvary's education programs, the theme for LEAP this year is "Every Month is Black History Month in 2021." When looking at the calendar of upcoming events, one LEAP participant responded by saying "I think it's kind of messed up that Black History is limited to only one month a year, so I'm glad that we're giving it its due."
We will continue sharing our LEAP program activities throughout the year, so be sure to like us on Facebook and follow us on Twitter to keep up with the latest from Calvary.