March 12, 2021
"You have to be patient with yourself."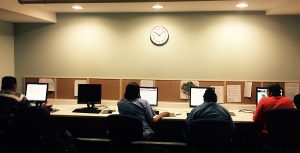 2020 was a tough year for Quiana. Quiana lost a close family member to COVID-19, was laid off from her job, and after leaving an abusive relationship she found herself homeless. Arriving at Calvary Women's Services Reach Up program, Quiana was not sure what to expect, but "you have to be open-minded because it isn't always as bad as it seems."
In her time at Reach Up, Quiana struggled to find a new job, becoming more and more stressed about it. Quiana was connected to the Step Up DC (SUDC) program, which provided resources to help her update her resume and supported her in her job search. "It is stressful, but I am learning," Quiana expressed, "you have to be patient with yourself and with the people around you."
At Calvary, we know that with the right support, women are empowered to change their lives. Calvary provides housing and basic services to women so they can focus on healing, building skills, and working to end their homelessness. For Quiana, knowing that someone believes in her has empowered her to set goals around housing and employment, and work towards them.
Quiana is now part of a pre-apprenticeship program where she is learning skills and will gain connections to an apprenticeship program and employers. She is excited about the opportunities that can come from her participation in this program and is determined to find a stable job.
When looking forward to what 2021 will bring, Quiana feels hopeful and is determined to show up each day and keep working towards her goals.