May 19, 2021
Calvary Women's Services' Announces Special Guests for Hope Awards' VIP Reception
Calvary Women's Services is excited to announce three special guests who will be joining us at the VIP reception following tonight's Hope Awards.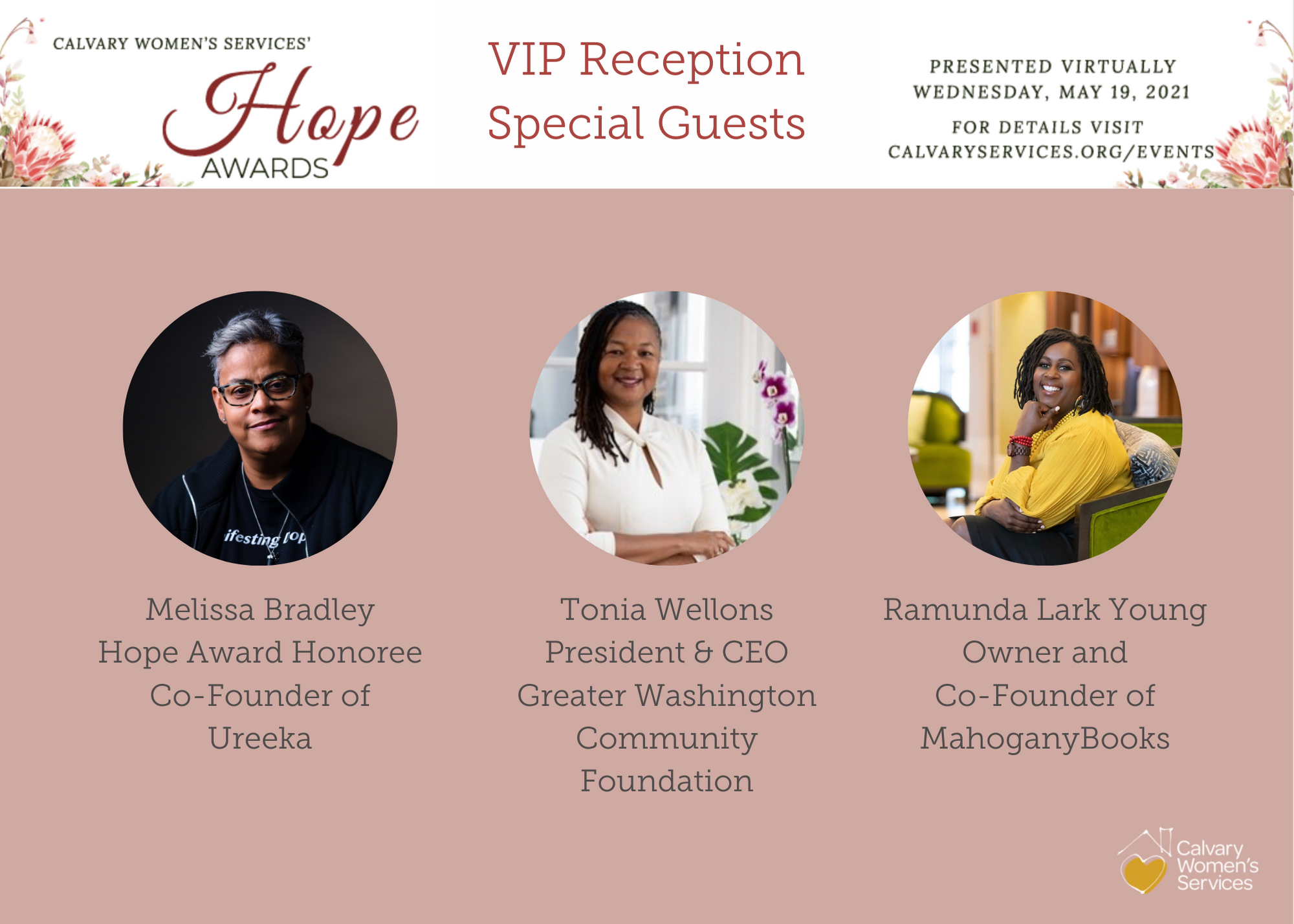 Melissa L. Bradley: Hope Awards Honoree and Co-Founder of Ureeka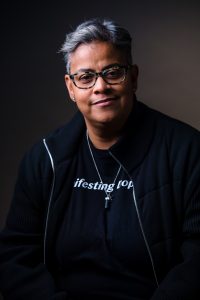 Melissa L. Bradley is a co-founder of venture-backed Ureeka, a community where small businesses gain unprecedented access to the expertise needed to grow their business. The Ureeka mission is to democratize economic opportunity by enabling community and by reducing the cost and risk associated with growing a small to medium business (SMB). She is also Founder of 1863 Ventures, a business development program that accelerates New Majority entrepreneurs from high potential to high growth. In this role she created a community of over 10,000 New Majority entrepreneurs in three years. Melissa serves as General Partner of 1863 Venture Fund, Venture Partner at NextGen Ventures and serves an advisor the New Voices Foundation and New Voices Fund, as well as the Halcyon Fund. She is also a member of the Goldman Sachs' One Million Black Women Advisory Council, Fast Company Executive Board, Square & Forbes Small Business Advisory Team, as well as the Target Accelerators Entrepreneurs Advisory Council. Melissa is the former Co-Chair, National Advisory Council for Innovation and Entrepreneurship and was recently named one of The Most Entrepreneurial Women Investors in 2018.
Melissa is a professor at the McDonough School of Business at Georgetown University where she teaches impact investing, social entrepreneurship, P2P economies and innovation. She recently received The Ideas Worth Teaching Award which celebrates exceptional courses that are preparing future business leaders to tackle society's largest challenges and create a more inclusive, just, and sustainable version of capitalism. She is also a Co-Founder and Managing Partner of Sidecar Social Finance, a social impact agency that provides impact investing advisory and capital services to individuals, institutions, and social enterprises.
Melissa's educational background includes graduation from Georgetown University in 1989 with a Bachelor of Science degree in Finance from the School of Business, and a Master's degree in Business Administration in Marketing from American University in 1993.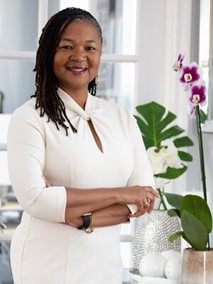 Tonia Wellons, President & CEO Greater Washington Community Foundation
Tonia Wellons is the President & CEO of the Greater Washington Community Foundation, the largest public foundation in the Greater Washington region. The Community Foundation's mission is to Build Thriving Communities by galvanizing philanthropy and investing locally to maximize community impact. Our vision is for a more equitable, just, and thriving Greater Washington for all, and especially for those who have been systematically marginalized in our region. Leading an organization with a staff of 30, $335 million in assets under management, and $60 million in annual grants, Tonia oversees the day-to-day business of the organization, serves as chief development officer, and works with the Board of Trustees and staff to determine the strategic priorities of The Community Foundation. Tonia has successfully launched and led programmatic and development efforts for several key initiatives at The Community Foundation, including the COVID-19 Emergency Response Fund, VoicesDMV, the Resilience Fund, and the Partnership to End Homelessness. She also has purview over all grantmaking, community engagement, and strategic partnerships. Tonia was recently named a Hero of the Crisis by Washingtonian Magazine, 2020 Nonprofit Leader of the Year by the Washington Business Journal, and the 2020 Philanthropist of the Year by the AFP DC chapter. She currently sits on four boards: The National Alliance to End Homelessness, Washington Regional Association of Grant Makers, Leadership of Greater Washington and the Federal City Council.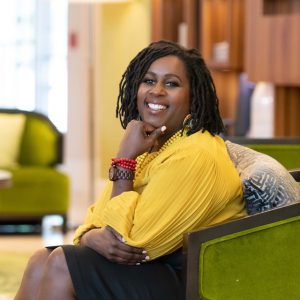 Ramunda Lark Young, Co-Founder/Owner MahoganyBooks
Ramunda Lark Young is a passionate speaker, committed community leader and dedicated entrepreneur.  She is  Co-Founder/Owner of MahoganyBooks, a nationally recognized and award-winning bookstore in Washington, DC created with her husband Derrick.  Recognized as a book industry leader with more than a decade of experience, Young is a sought after speaker and panelist who focuses on the crucial importance of books and literacy in the community.  MahoganyBooks continues to be the premier online destination for books written for, by and about people of African descent and recently made history by opening its first physical bookstore in the historic Anacostia community of DC.
To date, Young has developed sold out events with luminaries like Misty Copeland,  Charlie Wilson, April Ryan, Congressman John Lewis and a host of others.
Young also founded The Ramunda Young Group, LLC. A venture  teaching women to build successful business relationships that increase sales and self-confidence. Her popular masterclasses equip women to sit comfortably at any table.
In addition to entrepreneurship, Young is an active community member.   She currently serves as Vice Chair of the Prince William County Human Rights Commission and recently appointed by the Governor of Virginia to a three year term on the Council on Women.
Young was named to The Root 100, a list of the most influential African Americans in the nation,  awarded Commissioner of the Year by the Virginia Association of Human Rights, and recently a Washington Business Journal Women Who Mean Business Honoree.   She is a proud alum of Langston University and Leadership Prince William.  Ramunda is a member of Zeta Phi Beta Sorority, Incorporated.
She and her husband Derrick are excited parents of their daughter Mahogany.
Get your VIP Ticket here to join us at the reception immediately following tonight's Hope Awards.