May 7, 2021
Honoring Melissa Bradley at the Virtual Hope Awards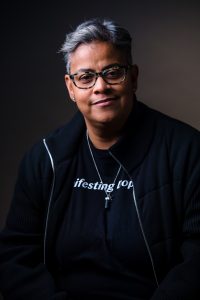 The Hope Awards Dinner is an inspirational and fun evening held every May that brings together major supporters and business and community leaders to support the work of Calvary Women's Services. This year, we are bringing this beloved event to a virtual format on Wednesday, May 19th. Come together with community leaders, national and local corporations, and members of the Calvary community to celebrate the accomplishments of women who are changing their lives through Calvary's programs.

Calvary is excited to recognize Melissa Bradley with the Hope Award. The Hope Award is presented annually to a local leader who offers hope and empowerment to people in need. With a lifelong commitment to empowering and investing in women, people of color, and those living in poverty, Melissa exemplifies these values.
Melissa L. Bradley is a co-founder of venture-backed Ureeka, a community where small businesses gain unprecedented access to the expertise needed to grow their business. The Ureeka mission is to democratize economic opportunity by enabling community and by reducing the cost and risk associated with growing a small to medium business (SMB). She is also Founder of 1863 Ventures, a business development program that accelerates New Majority entrepreneurs from high potential to high growth. In this role she created a community of over 10,000 New Majority entrepreneurs in three years. Melissa serves as General Partner of 1863 Venture Fund, Venture Partner at NextGen Ventures and serves an advisor the New Voices Foundation and New Voices Fund, as well as the Halcyon Fund. She is also a member of the Goldman Sachs' One Million Black Women Advisory Council, Fast Company Executive Board, Square & Forbes Small Business Advisory Team, as well as the Target Accelerators Entrepreneurs Advisory Council. Melissa is the former Co-Chair, National Advisory Council for Innovation and Entrepreneurship and was recently named one of The Most Entrepreneurial Women Investors in 2018.
Melissa is a professor at the McDonough School of Business at Georgetown University where she teaches impact investing, social entrepreneurship, P2P economies and innovation. She recently received The Ideas Worth Teaching Award which celebrates exceptional courses that are preparing future business leaders to tackle society's largest challenges and create a more inclusive, just, and sustainable version of capitalism. She is also a Co-Founder and Managing Partner of Sidecar Social Finance, a social impact agency that provides impact investing advisory and capital services to individuals, institutions, and social enterprises.
Melissa's educational background includes graduation from Georgetown University in 1989 with a Bachelor of Science degree in Finance from the School of Business, and a Master's degree in Business Administration in Marketing from American University in 1993.
Please join us this year as we honor Melissa Bradley and all that she has done to better the lives of women, people of color, and those living in poverty in this community. We will also recognize DAVIS Construction as our Partner of the Year, hear from women who have ended their homelessness through Calvary's programs, and celebrate the accomplishments that are made possible through your support.
Learn more about the Virtual Hope Awards and register here for this virtual event.