June 9, 2021
Poetry Nights with Deloitte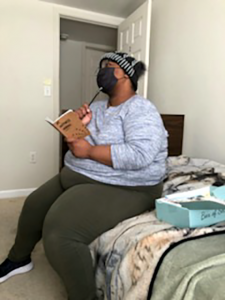 Thank you to our corporate partner Deloitte who sponsored and participated in our third Summer Poetry Series, titled Not a Small Voice. Held via Zoom on the last two Thursdays in May, Deloitte staff and Calvary residents connected to cheer on poets Teri Ellen Cross Davis and her husband Hayes Davis, along with past winners of Deloitte's Staff Talent Competition and women currently taking poetry in Calvary Women's Services' Life Skills, Education, and Art Program (LEAP).
Teri's work centers around "the experience of living and mothering while Black in contemporary America." Hayes read a series of poems about the experience of a stutter. There were also poems about being a child of divorce that resonated deeply with the audience.
The women from Calvary read next, receiving strong support from their fellow residents. Both nights, the Calvary readers brought the house down with their original works. The women in the audience exploded with pride and an appreciation for the poets' voices, very much like themselves, writing about experiences very much like their own.
The Deloitte poets were both bursting with energy and were a fantastic way to end the evening. These poets came through the zoom screens with more heart than one could imagine rounding out the evenings in a beautiful way.
The day after the event, women reflected about the experiences and frustrations described in the poems and how it made them feel. The women are still talking about how great this series was and look forward to more nights like this in the future.