August 2, 2021
Supporting Partners for Tomorrow: Rashika Pedris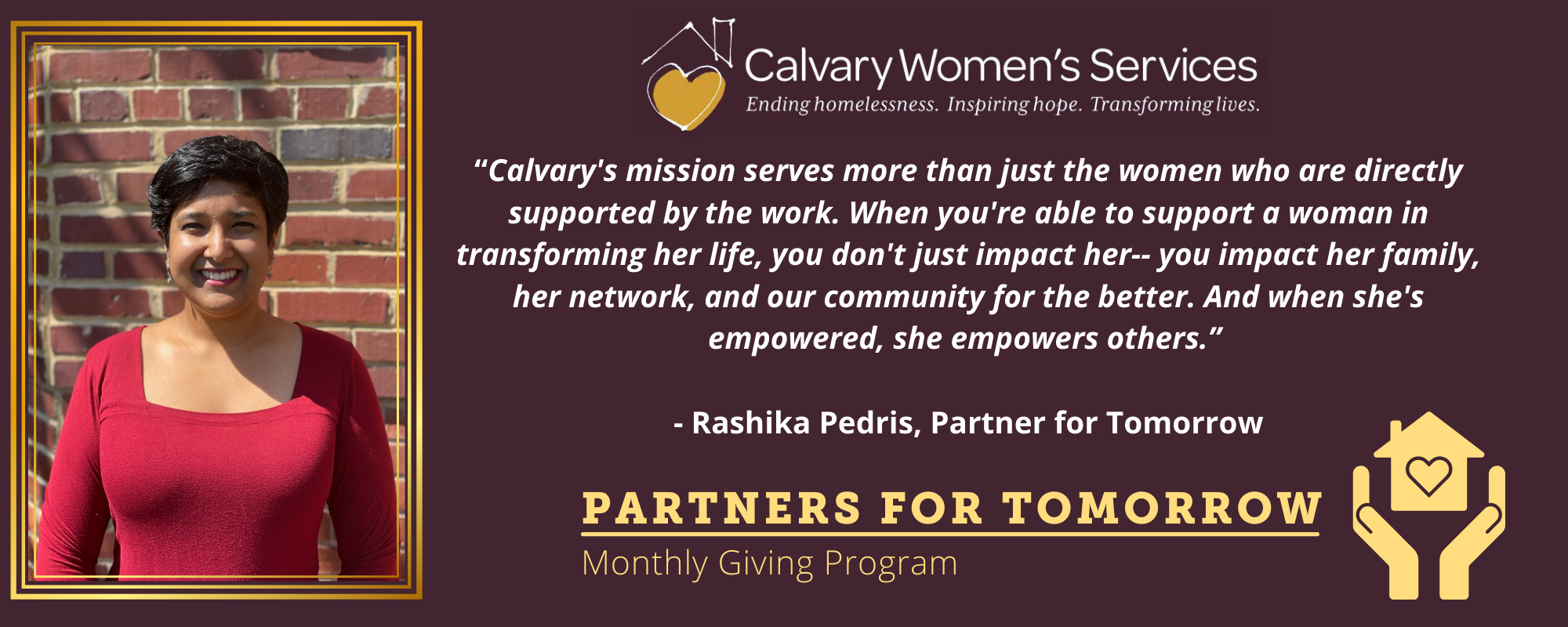 Calvary Women's Services' Partners for Tomorrow, a community of monthly donors, are critical to the success of this organization. The investment they make in our work and the women we serve each and every month is unparalleled.
We want to take a little time to highlight one of our Partners for Tomorrow, Rashika Pedris. Calvary's work inspired Rashika after she attended Calvary's Home for the Holidays event in 2019. Rashika shared, "I was invited to a Calvary Women's services fundraising event, and I had the chance to hear the stories of women whose lives had been impacted by the work of Calvary. I've known so many women who have had similar struggles as the women who spoke, and many of them didn't have access to a place like Calvary."
Rashika stayed connected to Calvary after the event, but in March 2020, everything changed. Rashika knew she wanted to have a bigger impact, so she joined as a Partner for Tomorrow. "If I could help women access the resources and support Calvary provides, even in some small way, I wanted to be a part of it. Giving on a monthly basis allows me to support work that I am passionate about– work that makes a direct impact on people's lives."
"The support that Calvary provides is desperately needed right now," Rashika continued. "I want to continue to support Calvary in any way I can because so many women are empowered by the work that they do. I hope you will join me. Women can go from surviving to thriving through the work that we're able to fund monthly. Calvary doesn't provide band-aid solutions for the challenges women face– they help women tackle the root of their challenges by providing them with the tools, skills, and support they need to rebuild and improve their lives. I know that the money I'm able to contribute is well-spent on resources that make a lasting impact on the lives of so many women."
Our work is not possible without Rashika and our Partners for Tomorrow members. You can join this generous group of monthly donors today and have a lasting impact for months to come.
Join our Partners for Tomorrow program and ensure women have the resources they need to transform their lives with a monthly, quarterly, or annual gift plan.