January 12, 2022
Dignity Through Food: Meet Chef Meghan
"One of the things I remember most about my time at Calvary was having a home-cooked, delicious meal every single night. It made me feel cared for and seen." – Patricia, former Calvary resident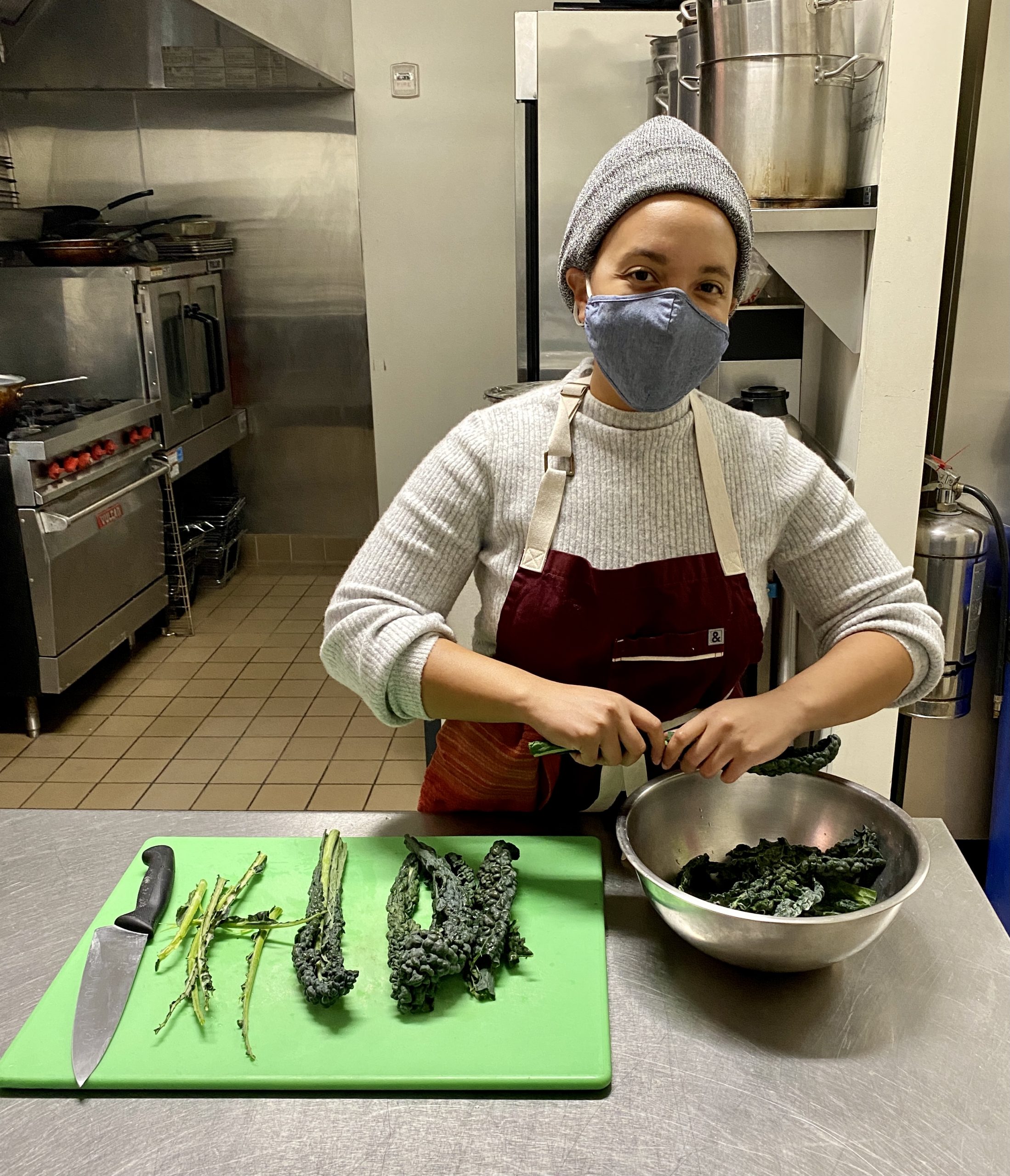 At Calvary Women's Services, we offer a holistic approach that provides women with the resources and support they need to take positive steps to regain their independence and end their homelessness.
A critical part of this approach is providing nutritious meals every day to women living at our transitional housing sites. Many of the women we serve live with diabetes, hypertension, or other illnesses. Healthy meals are critical to ensuring women maintain their health, and they also create a sense of community and allow women to keep their focus on rebuilding their lives.
Calvary's Head Chef, Meghan Glass, prepares dinner for women who live at our two transitional housing programs, Good Hope Transitional Housing and Reach Up Transitional Housing.
Meghan has one goal in mind when she gets to work every day – dignity through food. She shared, "I try to provide a friendly attitude and a plate of good food at the end of a potentially hard day. When someone makes something from scratch, it exemplifies the care they have for the recipient."
Meghan's passion and commitment to providing healthy food that the women enjoy is felt by all at Calvary! Evelyn is a resident at Calvary and can't say enough good things about the food. She said, "It is just so good. I haven't had a meal that Chef Meghan has made that I haven't liked. It's always fresh and I can feel the love."
It's hard for residents to narrow it down to just one favorite meal that Chef Meghan has prepared, so here are a few of the all-time favorites at Calvary:
Oven-baked Chicken, Roasted Squash Salad, Brown Rice
Lemon Pepper Tilapia, Kale and Cranberry Salad, Israeli Couscous
Italian Turkey Kale and White Bean Soup
Lasagna Roll Ups with Steamed Broccoli and Texas Toast
Butternut Squash Curry with Wild Rice
The Head Chef position has provided Meghan the space to learn and grow as a chef and as a member of the Calvary community. The position is a combination of all of her previous work and educational experiences, which allows Meghan to bring her all to work, every single day.
Since Meghan prepares meals for two programs, she is constantly planning and revising her methods to ensure there is a sufficient amount of food without much waste. She also knows she could not do this job alone. Meghan cooks Monday through Thursday, and volunteers provide weekend meals.
"We're all grateful to the huge support volunteers give during the weekends! They're rockstars," Meghan said.
Chef Meghan's expertise and care in the kitchen at Calvary is unmatched! We are incredibly thankful for all she does to provide nutritious meals to the women we serve.
Thank you, Chef Meghan!
P.S. Two other things you should know about Meghan are that her most important kitchen tool is a sharp knife and a dish she makes year round is soup!