July 6, 2022
Roommates Move Out of Calvary and Into Their Own Home . . . Together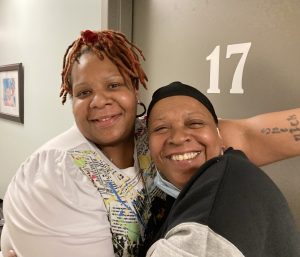 Calvary Women's Services is more than a safe place to spend the night. Our programs empower women to make lasting changes in their lives. And women establish relationships that provide strength and security as they do that important work.
Angela and LaShell were roommates during their time living in the transitional housing program at Calvary. They supported one another as they attained sobriety and participated in continuing education and other opportunities that empowered them to end their homelessness.
When the time came to take the next step and move out of Calvary, Angela and LaShell didn't leave their relationship behind. They are still roommates, this time in their own home.
They said they made it through to "the other side" because they always had someone to lean on and laugh with. As they packed their things to depart, other Calvary residents and staff stopped by to say goodbye and wish them the best. "It was a morning filled with joy," said Allison Kraemer, senior manager of development.
Although women who come to Calvary are facing serious life challenges, the housing programs, wraparound support services, and individualized attention provide a place where women are heard and can begin to rest a little easier and face the future together. LaShell said being at Calvary was a "great experience" because she was able to feel she was in a safe space to rebuild her life.
Angela said, "I am going to miss the support, Calvary staff, and the laughter you could always hear throughout the building. I didn't give up, and I feel blessed."
Learn more about our programs that empower women to change their lives, or make a donation to help us continue our work.