August 24, 2022
Third Annual "In This Together Community Walk" Will Be In Person For The First Time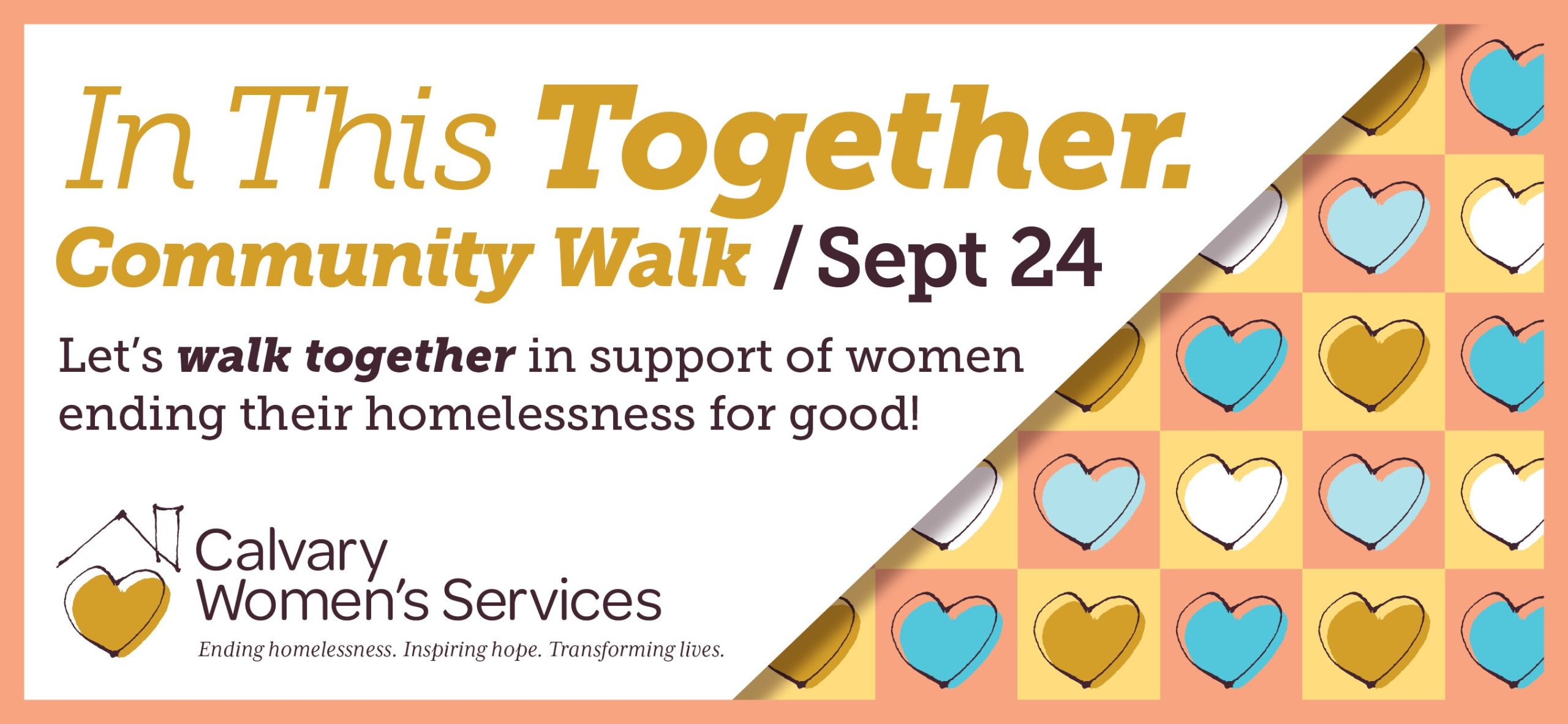 After being cautiously cooped up for two years, it's time for the Calvary community to get out and enjoy some fresh air together while providing life-changing support for women.
In This Together Community Walk will be held in person for the first time, on Saturday, September 24, at 10 a.m. at Anacostia Park.
The Community Walk started in 2020 as a virtual event to support Calvary Women's Services. It's hard to imagine a fundraising walk being held online, but that's how it was in those days. The remoteness didn't stop the Calvary community. Supporters participated from wherever they were to champion women who are working to end their homelessness for good.
This support has helped Calvary continue to grow, even during the most challenging times. Each night, 1,000 women are experiencing homelessness in the District. Calvary has doubled its capacity in just the past few years, and this fall will open New Foundations to provide 15 more beds for women who have survived domestic violence.
In This Together stemmed from the Calvary women themselves, who began taking daily group walks during the height of the pandemic. One woman said the walks were a "blessing" because she found them peaceful and allowed her to leave her worries behind for an hour. A Calvary staff person, who also walked, recalled that during a time when there was little to no good news, the walks "created this safe space that helped us stay positive."
We look forward to seeing teams of friends and co-workers, families, strollers, dogs, and people coming together to form new relationships. There are a variety of ways to help reach our goal of $40,000
Join us as an individual or member of a team ($30 registration fee).
Or … take the next step and create a team. It's easy! We have a toolkit to guide you.
Can't make it in person? No worries. You can still participate virtually.
Reservoir Communications Group is a long-time Calvary supporter – and has created a corporate team for In This Together since the first event in 2020. They shared, "It only takes a few moments to sign up and you'll enjoy the flexibility that comes with either walking in person at Anacostia Park or finding another location with your friends, colleagues, and family to walk together as a team. The In This Together Community Walk is something our employees look forward to each year. We use it as an opportunity to come together as a team and walk alongside each other in support of Calvary's mission and the wonderful women they support."
There's no question that every size of gift makes a difference in a woman's life: $30 can provide a night of safe housing … $50, a week of nutritious home-cooked meals … $125, one month of job placement services … $500, a bed and mattress for a new client who walks through Calvary's door.
Imagine the impact $40,000 will bring.
CREW DC, a professional association that aspires to transform commercial real estate by advancing the achievements of all women, has supported Calvary for many years, including organizing a team for the walk. Kathy Allgier, executive director of CREW DC, said, "We are proud to work with Calvary Women's Services to expand the community of support for every woman looking to transform her own life."
Because we are all In This Together.
THANK YOU to this year's sponsors