September 27, 2022
First In-Person Community Walk a Huge Success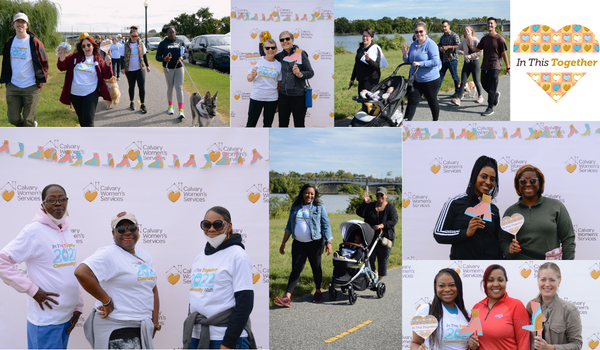 Calvary Women's Services had an incredible turnout for the first in-person In This Together Community Walk! Over 90 supporters and friends came together at Anacostia Park on Saturday to walk together in support of women ending their homelessness for good.
Thank you to everyone who walked with us in-person and to those of you who joined us virtually! You helped us raise critical funds for Calvary, which will enable us to provide safe housing and life-changing services to more women in our community.
As they always do, Calvary's supporters showed up and exemplified what it means to be a community that is In This Together. We are so grateful for the time, energy, donations, and enthusiasm that made this event successful.
Before the walk began, participants heard from Calvary's CEO, Kris Thompson, Board President, Serena Agaba Rwejuna, and two Calvary residents, Joyce and Carmen, who were a part of Team Calvary's walking group.
During her remarks, Serena shared what it meant to have everyone together after two years of virtual In This Together events."Community means everything to us at Calvary. The women we serve are a community. The staff and the board, they're a community. And each of you are a part of that community too! It takes all of us to do what we do, and to create a safe space where women can rebuild their lives. That is what makes today so important and meaningful."
After making team signs, taking fun group photos, and meeting new Calvary supporters, participants headed out for the 2.5 mile walk along the beautiful Anacostia River!
Joyce and Carmen shared that they are so grateful for Calvary because it has given them a second chance in life. This is why we do what we do. Each night, there are over 1,000 women experiencing homelessness in our city. But each person who walked with us this past weekend has made an investment in Calvary and women, and that means we will have the resources we need to help even more women. Women like Joyce and Carmen who are in need of support as they rebuild their lives.
If you weren't able to join us this year, there is still time to make an impact by donating to the event page. Every donation, no matter the amount, makes a difference.
Check out all of the great photos from the event here. We can't wait until next year!
Special thanks to our sponsors