November 28, 2022
KPMG Volunteers Help Calvary Women Navigate the Unique Challenges of Seeking Employment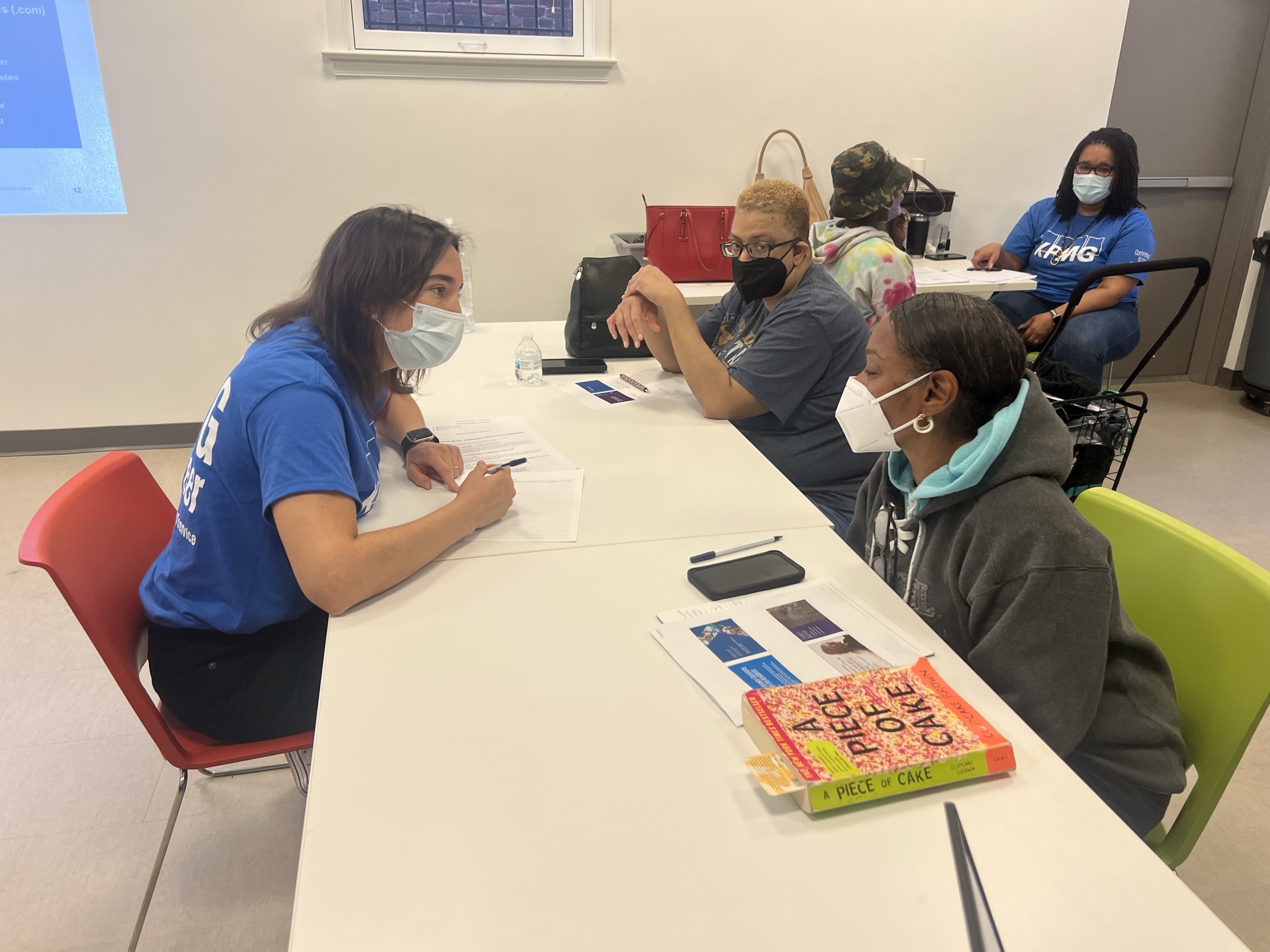 Volunteers from KPMG, one of the world's leading professional services firms, spent an afternoon at Calvary Women's Services. Volunteers connected with women who face unique challenges as they seek employment on the path to ending their homelessness for good.
During the session, the KPMG volunteers focused on the essentials of searching for a job, such as resume building, general interviewing tips, the importance of storytelling, and how to create goals related to a job or industry of interest.
The clients shared the particular issues that come with trying to become employed while living in transitional housing, experiencing a long gap of unemployment, or having physical limitations.
Smaller break-out groups gave the clients an opportunity to focus more closely on specific questions and concerns. One of the clients said she has a hard time selling herself in interviews even though she is qualified for the job. She sat down with one of the volunteers to work through her interview anxieties.
"The KPMG session was a big success," said Kimbley Allen, Calvary's workforce development manager. "The women enjoyed being able to participate in the event, and they received a lot of valuable information. Having partners like KPMG helps to provide best practices and bring a greater impact to the organization."
The event was part of Step Up DC, Calvary's job readiness and placement program, which offers a holistic approach to helping the women quickly gain employment and a stable source of income at a living wage. Since 2014, Step Up DC has helped address the ongoing urgent need for programs that support women as they seek financial independence. The program model is unique because it works with women to identify their strengths and skills rather than referring women to additional job training. More than 80 percent of the women at Calvary graduated from high school or completed a GED, and 47 percent completed postsecondary education.
Throughout the last year, Calvary exceeded its expectations and helped 64 clients secure employment with the support of their case managers. Of the women who secured employment, 95 percent have retained their jobs with an average of 192 days of employment retention. The average hourly wage for clients who secured employment was $16.85 per hour, which is enough to earn fair market rent in some neighborhoods in the District.
Thank you to KMPG and all the amazing partners who make Step Up DC a truly impactful way to help women change their lives.