January 20, 2023
Meet Our Board: Vice President, Caitlin Sickles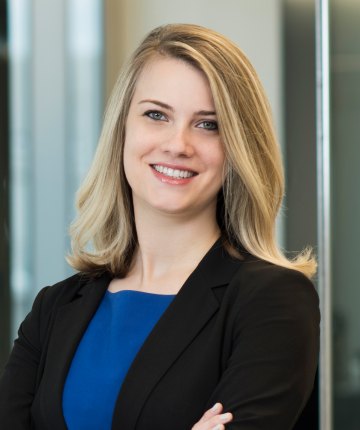 Caitlin Sickles accepted the position of Vice President of the Calvary Women's Services (Calvary) Board of Directors in October 2022 after serving on the Development Committee.
Caitlin has lived in Washington, DC for 13 years and is a senior principal at Bracewell LLP. At Bracewell, Caitlin assists her clients in strategic communications. Her focus is on the design and implementation of comprehensive, multi-platform communications campaigns for a range of companies and associations in sectors, including manufacturing, consumer products, national security, healthcare, energy, and the environment. When she's not working or serving with Calvary, she spends her time raising her two sons, 5-year-old Declan and 1-year-old Rowan, alongside her husband Ryan and training their new puppy Teddy. She and her family are also avid hikers, spending most of our weekends in the woods in and around the DMV. Calvary sat down with Caitlin to talk about her experiences and hopes for Calvary, both now and in the future.
What drew you to Calvary Women's Services, and how long have you been involved with the organization and on the board?  
I'm proud that my employer, Bracewell LLP, is a long-time supporter of Calvary and that many of my colleagues have been involved with the organization over the years. I started supporting Calvary when my colleague and friend Dee Martin was on the board. I was immediately drawn to Calvary and the organization's commitment to holistic, wrap-around services.  I am continually inspired by the dedication of the Calvary staff, and I'm motivated by the tangible impacts Calvary makes on local women's lives every day. I'm honored to be serving in my third year on the board.
As part of leadership for the organization, what are some of your short and long-term goals for the organization?
In the short term, I'm excited about the opening of New Foundations, Calvary's new transitional housing program for domestic violence survivors. I'm looking forward to 2023 when Calvary will begin welcoming women into this safe and beautiful space where they can start the next chapters of their lives.
In the longer term, I'm enthusiastic about Calvary's plans to continue to grow and serve more women as a leading organization working to solve chronic homelessness in our city.
What do you think the future holds for Calvary Women's Services?
One of my favorite sources of wisdom is the "In Her Words" page on the Calvary website, where women who have spent time at Calvary share their perspectives.  There's a poem on the page called "Hope," and one line is, "Hope is in her horizon." When I think about the future of Calvary, I think about that quote. Calvary will continue to be a beacon of hope on the horizon for DC women.
Why do you think what Calvary Women's Services does is so important?
Calvary is important because, tonight, there will be over 900 women experiencing homelessness in DC. Nearly half of those women will have also experienced domestic violence. Housing that is specifically dedicated to women is so important to ensure that women are safe and not retraumatized. Calvary offers that promise of safety, recovery, and building a better future.
If you could pick one word to describe Calvary Women's Services, what would it be and why?
The word that I think most defines Calvary is "open."
During the pandemic, when the rest of the world was shutting down, the staff at Calvary kept the doors open, continuing to provide women with secure housing as well as other vitally needed programs and services.  As important, Calvary provides an open community – welcoming women as they are, supporting them through trauma, helping them find their own strength and capabilities, and setting them on a course to reach their highest potential.