March 3, 2023
Calvary Women's Services Receives Grant From Aura Cacia's Positive Change Project

Calvary Women's Services is proud to share that Aura Cacia, a leader in sustainably sourced essential and skin care oils, selected the organization as one of five Positive Change Project grant recipients.
The funding will go towards Calvary's Step Up DC program, which provides one-on-one job placement support to women in our housing programs. Step Up DC participants receive assistance building resumes, completing job applications, preparing for interviews, finding transportation, and more.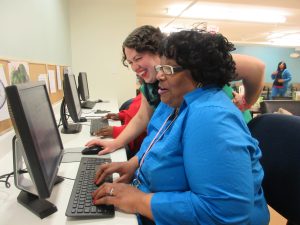 "Since its launch in 2014, Step Up DC has empowered hundreds of women experiencing homelessness to transform their lives through stable employment opportunities," said Kris Thompson, CEO of Calvary Women's Services. "This grant will directly benefit the women in our community, allowing Calvary to continue offering high-impact services and equip clients with the tools needed to succeed in the workforce."
The Positive Change Project is an annual grant program founded by Aura Cacia in 2016 to support organizations that help women and girls transform their lives. Aura Cacia has been a major Calvary donor since 2020, providing more than $100,000 in total investments to our education and employment programs over the last three years.
"At Aura Cacia, we believe in the power of positive change because we've seen firsthand the tangible impact it can have, especially within underserved communities where women and girls continue to face overwhelming hardships with courage and determination," said Shannon Ousley, Aura Cacia's Director of Marketing, in a press release. "That belief is the genesis of the Aura Cacia Positive Change Project and a guiding principle for the 2023 grant recipients. We're honored to support these organizations who offer exemplary solutions and resources to make transformational improvements in their lives."
4 in 5 of the women who participated in Step Up DC in 2022 gained employment. The average starting wage for program participants was $15.30 per hour, which is more than two times the federal minimum wage and enough to afford rent in some DC neighborhoods.
You can learn more about Step Up DC here: https://www.calvaryservices.org/program/employment/