April 18, 2023
Calvary Women's Services to Honor Judith N. Batty with Hope Award at 2023 Hope Gala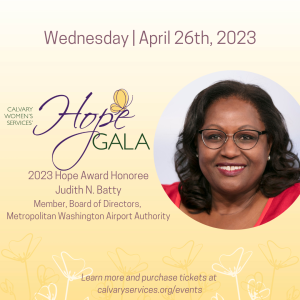 Calvary Women's Services is pleased to honor Judith N. Batty with the Hope Award during the annual Hope Gala on April 26. The Hope Award is presented annually to a local leader who empowers women to transform their lives in the DMV region and beyond.
Judith will be honored for her courage, confidence, and trailblazing spirit which has inspired hope in countless women. She currently serves as Member, Board of Directors, Metropolitan Washington Airport Authority. In this role, Judith is committed to sharing her professional expertise on leadership, strategy, and management in the global energy industry.
She has long advocated for women and girls as a global and national business leader and was the first Black woman to serve as CEO of the Girl Scouts of the USA. As a lifelong Girl Scout, Judith stepped into the role of interim CEO in August 2020, addressing the impact of the COVID-19 pandemic and systematic racism on 2.5 million Girl Scout members. Judith dedicated her time as CEO to creating a safe, welcoming environment where girls could find community, leadership opportunities, and support for any challenges they faced.
Judith holds a Juris Doctor from New York University School of Law and served as senior legal counsel and executive for a Fortune 100 corporation for nearly 30 years. Judith also serves on the board of Arena Stage and the Spoleto Festival, and is a member of Alpha Kappa Alpha Sorority, Inc and The Links, Inc.
Please join us as we honor Judith N. Batty and for her longstanding commitment to empowering women to transform their lives. We will also recognize Capital One as the 2023 Partner of the Year, hear stories from women who have transformed their lives through Calvary's programs, and look at how Calvary Women's Services is continuing its work thanks to generous donors.
Support the Hope Gala by purchasing tickets or making a donation to continue helping women in Washington, DC end their homelessness for good.