May 2, 2023
Provide a Fresh Start to Honor the Women in Your Life
At Calvary Women's Services, we believe that all the women in our programs deserve a Fresh Start as they work to overcome their homelessness and achieve their goals. To empower women in our programs this spring, we started the Fresh Start Campaign.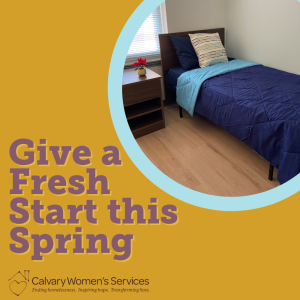 This campaign aims to collect bedding, towels, and other self-care essentials through our Amazon Wishlist. These in-kind donations will continue the Fresh Start theme for the women experiencing homelessness.
The gift of bedding allows a woman to wake up each morning feeling refreshed and ready to take on the day. The gift of body wash enables a woman at Calvary to wash away her worries and start fresh each morning. The gift of new towels allows a woman to wipe away her stress at the end of the day, knowing she gets a new start tomorrow.
Each Fresh Start you give is an opportunity for Calvary Women's Services to continue to empower a woman to transform her life. Your support will continue to make Calvary a safe, supportive environment while women work to end their homelessness for good.
We invite you to gift a Fresh Start to women experiencing homelessness by donating through our Amazon Wishlist. We also recognize that Mother's Day isn't always an easy occasion – especially for many women in our programs. By providing a Fresh Start, you can also honor mothers, maternal figures, bereaved mothers, and those who long to be mothers.
Follow these steps when you donate to the Fresh Start Campaign through our Amazon Wishlist to receive a special certificate in honor of your loved ones this Mother's Day:
Once the item is in your cart select Send as a gift and proceed to checkout
Select Calvary Women's Services Gift Registry Address
Write your name, email, and "Mother's Day" under Gift message
Select Email the recipient a copy of their gift receipt and type astrickler@calvaryservices.org
Finish placing your order!
We will email you a Mother's Day certificate to present to your loved one within a week of receiving your donation or by May 13th. Please note, the last day to place orders through Amazon Prime and still receive a certificate is May 10th. Donate today and empower women experiencing homelessness in Washington, DC with the gift of a Fresh Start.