May 26, 2023
Frontier Co-Op Empowers Women at Calvary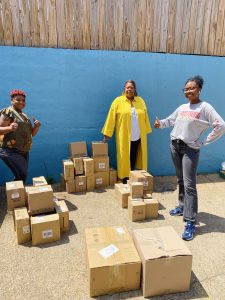 Calvary Women's Services is excited to announce a donation from Frontier Co-Op!
Frontier Co-Op generously donated over 370 items that were distributed to all of Calvary's transitional housing sites, benefiting the many women in our programs. The donated goods included everything from coffee and cooking seasonings to lotion, conditioner, deodorant, and other toiletries. Together, the shipment weight nearly 500 pounds!
"The items donated by Frontier Co-Op will make an immediate impact on the women in our transitional housing programs," said Fatima Bah, Calvary's Chief Program Officer. "We're grateful to have partners who are dedicated to meeting the tangible needs of women in our community."
This donation of self-care essentials will make a significant difference in the lives of the women in Calvary's program as they work to overcome their homelessness for good.
The Frontier Co-Op family has been a valued partner of Calvary for several years now. Frontier Co-Op is the parent company of Aura Cacia, which is a leader in making essential and skin care oils, has given several generous grants to Calvary over the last few years. In March, Calvary received a Positive Change Project grant from Aura Cacia to benefit women in our employment program, Step Up DC. Their support will directly empower women in their job search, offering assistance with resumes, job applications, interview preparation, transportation, and more.
We are grateful for Frontier Co-Op's dedication to empowering women and ending homelessness in Washington, DC! If you're interested in joining our Corporate Partners Program, learn more here.