July 5, 2023
Celebrating Triumphs: Calvary and FAST DC Empower Women to Transform Their Lives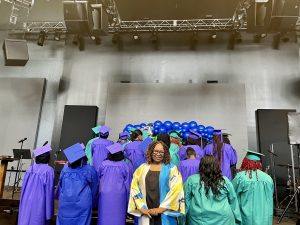 As a part of Calvary's Life Skills, Education, and Arts Program (LEAP) women participate in classes that equip them with the tools to transform their lives. Over the past nine weeks, women participating in LEAP have had the opportunity to attend a class taught by FAST (Fighting Against Sex Trafficking) DC that became a quick favorite.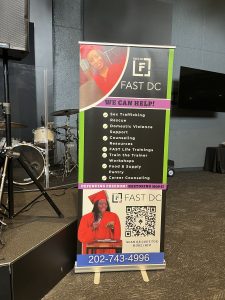 FAST DC's mission is to equip vulnerable women and girls in the DC region with preventive education and essential resources. This program goes beyond conventional teachings by addressing the intersection of mental, physical, and spiritual well-being. Hey, Girl, a course led by Andrea Counts, the visionary Founder and President of FAST DC, has been offered to Calvary residents for the last nine weeks.
Hey, Girl is not just another class—it supports women on a journey of self-discovery, fostering healthy relationships, developing vital life skills, and ultimately, empowering them to become catalysts for change. Through this transformative experience, FAST DC empowers women to uplift themselves and make a lasting impact on their broader community.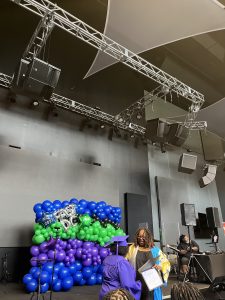 As we reflect on the past nine weeks, we are thrilled by the overwhelming response from Calvary residents. Hey, Girl has captured their hearts and minds, with Andrea Counts becoming a beacon of inspiration. "Our residents love this class and love Andrea," says Katie Gregson, Manager of Education and Programs at Calvary.
This past weekend, eight Calvary residents proudly put on caps and gowns to attend the much-anticipated FAST DC graduation. It was an uplifting occasion, uniting more than twenty women who had participated in FAST DC classes across the DMV region. The room was filled with the presence of friends, family, and supporters, all gathering to celebrate the remarkable achievements of the graduates.
Filled with gratitude, Katie Gregson took a moment to express her heartfelt appreciation for the program before introducing Ms. Mary, a talented Calvary resident who captivated the audience with a moving praise song. After Ms. Mary's song, Andrea Counts took the stage, delivering a powerful message: "Part of what we do in our nine weeks is restoration." Through the comprehensive curriculum of FAST DC, women are empowered to heal from the traumas they have endured as survivors of domestic violence.
Discover more about Calvary's exceptional education programs by clicking here.