August 2, 2023
Corporate Service Day: Baker Tilly
Discovering Peace on the Anacostia River
Baker Tilly, a top ten advisory tax and assurance firm, recently partnered with Calvary Women's Services for a community service day that left a lasting impression on both volunteers and the women we serve!
On Monday morning, eight Calvary clients and a group of volunteers from Baker Tilly's Tysons, VA office embarked on a boat tour of the Anacostia River.
Guided by an expert from Anacostia Riverkeeper, the experience was informative and allowed women to unwind from the stress of daily life amidst nature's wonders. As the group watched and identified wildlife, from graceful herons and majestic ospreys to playful ducks and turtles, the women found solace in the beauty of the river and the company of new friends.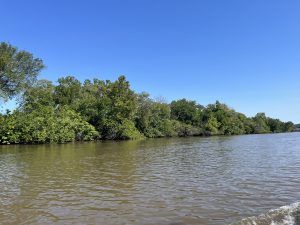 Beyond witnessing natural beauty, the boat tour was an educational experience. Attendees learned about the history of the Anacostia River as well as activists' efforts to restore the natural habitat and address environmental racism. For the women residing at Calvary, many of whom grew up calling the DMV region their home, this tour was an invaluable opportunity to gain knowledge and connect with the wider community.
Afterward, the group came together for a pizza lunch at our Good Hope Transitional site, just minutes from the Anacostia River.
Here are some of the highlights shared by the women at Calvary and the Baker Tilly volunteers, which capture the essence of the day:
Going on a boat for the first time and creating a new, happy memory to cherish.
Seeing the abundance of birds along the river was a surprise and delight and discovering a newfound appreciation for wildlife.
Learning about the history of the Anacostia River left a lasting impression, particularly on locals who heard much of this information for the first time.
Witnessing new friends conquer fears on the water showcased the strength and resilience within our community.
Finding peace and tranquility while surrounded by nature reminded each participant of the importance of seeking out safe, healing spaces.
As we reflect on this amazing day, we extend our gratitude to incredible corporate partners like the Baker Tilly team, who continue to invest in the well-being and empowerment of women in our programs.
To learn more about our corporate partner program and make an impact on women experiencing homelessness, please visit: https://www.calvaryservices.org/about/corporate/