September 1, 2023
Meet Our Team: Goldie Jones
From Program Participant to Resident Assistant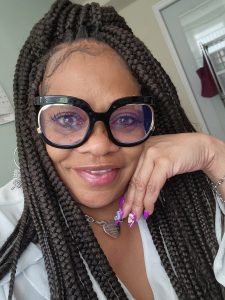 Goldie Jones has a unique perspective as both a former client and a current employee at Calvary Women's Services.
"Many years ago, I stayed at the Good Hope site," Goldie recounts. "The people who had the biggest impact on me during my time at Calvary were Sheryl Pope, my case manager, and Schwanna Cockerham-Qualls, a therapist at Calvary. Schwanna is a great listener, and I appreciate how she let me talk and be heard."
During her time at Calvary, Goldie participated in our Life Skills, Education, and Arts Program (LEAP) where she was able to develop new skills and create lasting memories. "One event I remember the most from my time at Calvary was when Elaine Johnson (a previous coordinator of LEAP) took us to see Nina Simone's Four Women at Arena Stage. It was the first time I had seen a play at the theatre!"
Goldie successfully graduated from Calvary's programs and returned in February 2023 – this time she is making an impact as a Resident Assistant (RA).
As a residential assistant, Goldie is responsible for the safety and security of the residents at New Foundations. She also assists in the management of the facility and provides support during emergencies.
Goldie excels in her role as an RA for New Foundations, and she is always open to sharing about her time at Calvary as a resident. Keisha Adams, the Program Manager at New Foundations, said "Ms. Jones has been a delight to work with. She has stepped up and stepped out with all programs when needed. She is a rock star!"
When asked about how she feels working at Calvary Women's Services, Goldie responded, "I am excellent…I am a mother, a daughter, and I'm giving back to the women at Calvary's programs."
"I am the woman I am meant to be. Since being at Calvary I have never looked back."