September 14, 2023
Virtual Time Capsule: A Conversation with Elaine Johnson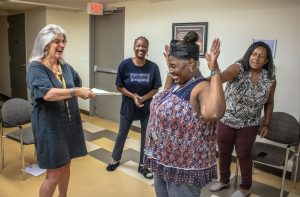 Elaine Johnson began working at Calvary Women's Services in 2013, just as the organization moved into our first permanent location, Good Hope, and was quickly tasked with launching our educational program.
Life Skills, Education, and Arts Program (LEAP) first started as a capstone project, run by a Georgetown University grad student. The Calvary team realized the program's many benefits and hired Elaine to take on the program full-time.
Elaine was willing to try and fail several different class models until she found a tactic that worked long-term thanks to a group of volunteers.
"We had a group from The World Bank come in and ask how they could help," said Elaine. "I had exhausted different options and finally decided to ask the women at Calvary what they wanted to learn about."
"I walked in and introduced these three women who were from all over the world and the response of clients completely surprised me: they wanted to learn about the country where each woman was from. Just like that, a cultural anthropology class was born."
While this class might not have seemed essential on the surface, it was a pivotal moment for LEAP. It empowered the women to have a voice in shaping their learning experience and allowed volunteers to share their passions. Consequently, the women became more committed to attending LEAP, and their personal transformations began to flourish.
She credits much of the success of the program's early years to a team of dedicated volunteers. "Nancy Arthbunot, Sharnikya Howard, Melissa Reinberg, Mary Lou Rife, Yvonne Rivers, Joelle Rudney, Mark Stone, and Lisa Wright were a few of the numerous volunteers who worked tirelessly to support the women and grow this program alongside me," said Elaine. "I was – and will always be – grateful for their dedication to the women at Calvary and incredibly proud of what we built together."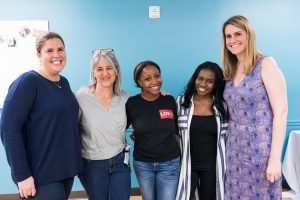 Continuing to seek out opportunities that would empower women was crucial to the success of the program, according to Elaine. She found herself turning to connections in the community to share what they were passionate about and became a bridge between volunteers and the women at Calvary. Other classes ranging from genealogy to negotiation, intrigued and inspired women to take control of their own lives.
Elaine also sought every opportunity to empower women to be comfortable and confident in their own skin.
"I believed that having never explored poetry before, a woman could see it as a new language to describe her life and she could also find a new relationship with her body by doing something gently physical, like Tai Chi." She continued to explain this approach saying, "it was important to me that I was there for the classes alongside the women. If I made someone else participate, I was going to be there too."
From the outset, Elaine aimed to empower women to have cultural ownership of Washington, D.C. While many Calvary clients had spent their entire lives in the District, few were aware of the cultural opportunities available to them.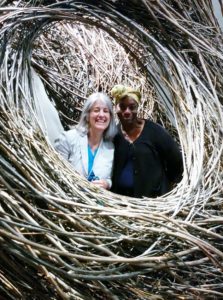 "I wanted women to feel like the whole city was their city."
To realize this vision, Elaine turned to the arts community. Calvary cultivated partnerships with various theaters, including Mosaic Theater which offered tickets to any show in its season, along with a chance for Elaine to see the script in advance in order to fully prepare the women for the performance ahead of time. Clients also embarked on field trips to exclusive art exhibits, captivating musicals, and the city's numerous free museums.
"The beauty of the arts is that you can process your own story and trauma through other characters. It becomes a safe space to process and explore your experiences."
Creating and maintaining a safe environment became even more critical at the onset of the pandemic. During the first month of the COVID-19 lockdown, Elaine came to Calvary seven days a week to walk alongside the clients. Elaine explained, "we were together. We all knew the hardships, despite the differences in our lives."
In response to the pandemic, LEAP swiftly transitioned to Zoom to sustain its program offerings throughout two challenging years of pandemic restrictions. Volunteers continued to show up virtually, offering opportunities ranging from mentorship to R&B classes. "We made it through the pandemic because we had a community going in," said Elaine.
Today, Elaine works with individuals who are differently abled both physically and mentally, drawing on the skills and lessons she learned at Calvary. "I always want to understand what my clients are telling me, no matter how long it takes."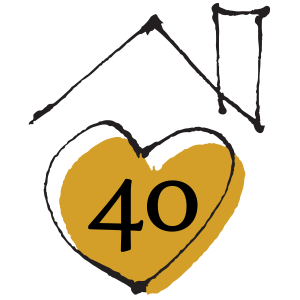 Calvary Women's Services Virtual Time Capsule highlights the stories and experiences of individuals who have played key roles in the organization over the last 40 years. Learn more about Calvary's history by visiting calvaryservices.org/about/our-history