November 17, 2023
A Priceless Gift: Get Involved at Calvary Women's Services Over the Holidays
Calvary Women's Services is dedicated to inspiring hope and ending women's homelessness. As we enter the holidays, we have multiple opportunities for you to spread joy and make an impact.
Whether you are looking to volunteer with loved ones, attend an event, or make a tax-deductible donation, there are ways for you to support our mission! Continue reading below to learn more.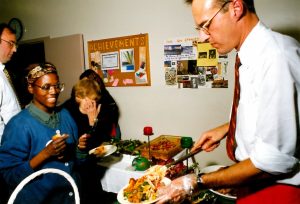 Volunteer Opportunities
Volunteers are vital to the success of our programs, especially during the holiday season. Many of our volunteers find donating their time to be both fun and rewarding, as they get to interact with members of our community. These are also great opportunities for workplaces, friend groups, congregations, or families to make an impact. Check out these three opportunities that are currently available for individuals and groups:
Provide a Holiday Meal for the Women at Calvary's program sites
Calvary's programs are in need of volunteers for holiday meals! Will you sign up to spread joy? New Foundations, a site that serves survivors of domestic violence, needs a Christmas Day meal, which will be dropped off. Also, all three of our transitional housing sites need meals on New Years Day. Please contact Lisa Buchs, Director of Institutional Giving, (lbuchs@calvaryservices.org) for details.
Additional meal volunteer opportunities, available each weekend, can be found here.
Wrap Holiday Gifts for Residents
A time-honored Calvary tradition, we are collecting items through our Holiday Wish List to gift to clients before the holidays. We invite you to make a donation through this list or volunteer to host a donation drive at your school, workplace, or place of worship. To be given to clients as gifts, donations must be ordered by December 17th. Calvary will continue to accept donations from this list through the new year.
Once this drive is complete in mid-December, we are in need of a group of volunteers to wrap about 120 holiday gifts for all of our residents. This fun, festive activity will take place at our Good Hope Road site for a group of up to 10 volunteers. Reach out to Lisa Buchs (lbuchs@calvaryservices.org) to sign up.
Donate Holiday Decorations and Host a Decorating Party
Our newest location, New Foundations, is in need of holiday decorations such as a small Christmas tree, cheerful wreaths, and other festive decorations. One group (up to four people) is invited to provide decorations and help decorate this space the week of November 27th or December 4th. For more information, get in touch with Lisa Buchs (lbuchs@calvaryservices.org).
Please note that New Foundations serves survivors of domestic violence and is an undisclosed location, so volunteers are required to sign all confidentiality forms before the program address can be shared. 
Interested in getting involved in the new year? You can find ongoing opportunities on the volunteer section of our website.
Additional Opportunities
Calvary Women's Services has several fundraising events planned this holiday season! These are excellent opportunities for those looking to meet fellow members of the Calvary community, learn more about our mission, and support our work to end homelessness for good. We invite you to participate the following:
Fundraise for GivingTuesday
GivingTuesday, November 28th, is a global generosity movement unleashing the power of radical generosity. This year, Calvary is working to raise $35,000 in just 24 hours. These funds will directly support our housing, health, education, and employment programs, which are available to women working to end their homelessness for good. Will you make a donation to empower women this holiday season?
You can maximize your impact through workplace contributions or by joining our Peer-to-Peer campaign. Share these graphics on social media and tag @calvarywomendc to invite your network to give.
Calvary is a 501(c)(3) and donations are tax-deductible.
Join us for The Ruby Jubilee: A special Home for the Holidays Celebration
Commemorating four decades of empowering women to end their homelessness, this special Home for the Holidays event will bring together our cherished community of longtime supporters, devoted community members, dedicated staff, and resilient clients. Together, we will pay homage to the past 40 years and envision the limitless possibilities that lie ahead for women in Calvary's housing, health, education, and employment programs.
Enjoy festive food and drinks — while taking in breathtaking views of the National Mall from the Altria Group's Rotunda. We look forward to sharing this unforgettable night of reflection and celebration with you! You can purchase tickets here.