Education Facilitator (LEAP)
Details
Come volunteer to empower women at Calvary through our Life Skills, Education and Arts Program (LEAP). LEAP classes run in 8-week sessions, every weekday from 1:30-2:30 pm and 3:30-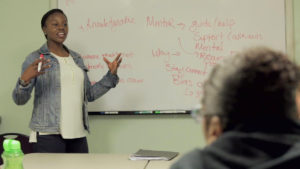 4:30 pm, and are all led by volunteer facilitators. This is the perfect opportunity for professional volunteers who are passionate about sharing their knowledge and building meaningful relationships with the residents at Calvary.
All LEAP classes are developed within a curriculum for women transitioning out of homelessness. LEAP Facilitators should expect to find a topic that fits their passions and the residents' needs and interests; all curriculum will be provided by Calvary's Education Coordinator. LEAP Facilitators should be enthusiastic instructors who are comfortable leading classroom-style presentations and activities for a class of 8-10 Calvary residents.
Facilitators are required to make a commitment to lead an hour-long class on one weekday afternoon for 8 weeks (with the option to extend based on the volunteers' availability). Classes run Monday-Friday from 1:30-2:30 pm and 3:30-4:30 pm. Facilitators are required to teach one class per week, at the same day and time, for eight weeks.
Time Commitment
Monday through Friday, one hour per week for 8 weeks, from 1:30-2:30pm or 3:30-4:30pm.
"I enjoy working as a LEAP Facilitator because it provides me the opportunity to share concepts that may be useful in empowering women at Calvary to achieve their goals. As I think back, there are numerous people who helped me along my journey and now it is my turn to help others. I look forward to the weekly classes because I know I am going learn something that I can use to make my life better. If you have the time to volunteer it will be a life-changing experience for you and the clients."
– Sam
Ready to lead a LEAP class for women at Calvary?