Job Lead Facilitator (Step Up DC) | Group Volunteer Opportunity
Details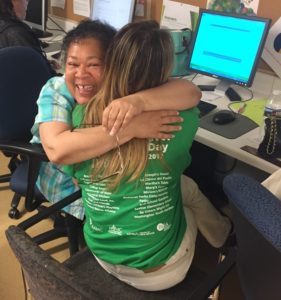 Are you and a group of friends or colleagues looking for a meaningful volunteer opportunity? Come volunteer with our job placement program! You will work one-on-one with women searching and applying for jobs on the computers. You'll help encourage them and answer any questions they have have about job searching, technology, interviewing, etc. Some days you may be asked to work on light administrative tasks that can be done in addition to working directly with women.
Volunteers should have basic computer and job searching knowledge and skills, strong interpersonal skills, the ability to communicate effectively with people of diverse cultures and backgrounds and an approachable, enthusiastic demeanor. Full training and support will be provided.
Time Commitment
We're seeking groups of 4-5 to cover one of the program days (Mon-Thurs), and volunteer from 9am – 12pm each week. You and your group will divvy up the weeks so one person will be responsible for one volunteer shift per month. More information about this format can be found here.
"Working in the Step Up program was a great way to connect with and help the women at Calvary one-on-one, and it was incredibly rewarding to see them find jobs and go through transitions in their lives. I personally learned a lot from hearing the women's stories firsthand. Watching them work through the job search and interview process was eye-opening."
– Aarthi
Interested in empowering women to gain employment?