Job Lead Facilitator (Step Up DC) | Individual Volunteer Opportunity
Details
Join Calvary as a Job Lead Facilitator and play a critical role in empowering women at Calvary to gain employment. Step Up DC, Calvary's job placement program, connects eligible candidates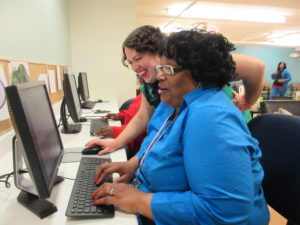 in Calvary's transitional and permanent housing programs to employers in the community. The Step Up DC Job Lead Facilitator allows 4-6 participants to access the computers on weekday mornings. If time allows, the Step Up DC Job Lead Facilitator may be asked to do light administrative work in support of the Step Up DC Program.
Job Lead Facilitators  should expect to monitor the computer lab while working one-on-one with clients who need  help searching and applying for jobs. These volunteers should be patient and respectful, and have enough computer experience to log the residents onto the machines, monitor that the activities are appropriate, and answer  any questions that may arise in regards to best job searching practices and technology.
Time Commitment
Job Lead Facilitators  are expected to make an ongoing commitment to come from 9am – 12pm once a week for six weeks  (with the option to extend based on the volunteer's availability).
"Working in the Step Up program was a great way to connect with and help the women at Calvary one-on-one, and it was incredibly rewarding to see them find jobs and go through transitions in their lives. I personally learned a lot from hearing the women's stories firsthand. Watching them work through the job search and interview process was eye-opening."
– Aarthi
Interested in empowering women to gain employment?