Mailing Volunteers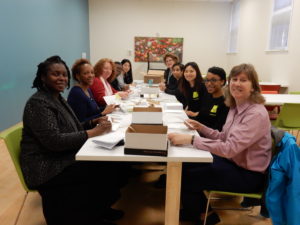 Details
Mailing volunteers are critical to Calvary's fundraising success. We're looking for small groups of volunteers who can come in twice a year, during business hours, to assist our development team.
In a small group of 4-6 volunteers, you'll help hand-address envelopes, fold and compile mailing components, and stamp, seal and send out fundraising mailings. These mailings bring in the donations needed to run Calvary's programs and range from donation solicitation letters to event invitations to thank you postcards. We'll make it a party by playing the music of your choice!
Time Commitment
Two 3-4 hour sessions per year, during business hours.
"Supporting Calvary's mailing efforts has offered our teams the unique opportunity to work onsite at the organization and support key fundraising initiatives, but in a way that accommodates different levels of physical ability. Our volunteers love practicing their calligraphy while interacting with a team of colleagues and the kind folks at Calvary."
– Erika, current volunteer lead at Hogan Lovells
Ready to help with mailings at Calvary?