May 14, 2014
Volunteer Spotlight: Patrice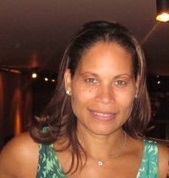 Patrice first graced Calvary with her presence just a couple of months ago, but it feels like she's been a member of the Calvary family for years! Patrice serves as an Evening Volunteer on Tuesday nights and has jumped in to support the residents of Calvary by managing ever-changing needs with ease. Calvary staff members describe her as "engaged, punctual, warm, and easy-going. Patrice is a doer–always looking for a project!" Thank you, Patrice, for your dedication and commitment to the women of Calvary!
Where are you from?

The Caribbean islands of Trinidad & Tobago, WI

Why do you volunteer at Calvary?

My short time with the ladies has filled me with such joy and fulfillment that I see myself as a part of the Calvary family long past the time I'm required to contribute!  I enjoy my time spent with the women.

What has been your most memorable experience at Calvary?

Every visit has been a great time. I especially enjoy watching Family Feud with the ladies.

What has surprised you most about volunteering at Calvary?

How women at Calvary welcomed me with open arms.

If you had to choose ONE word to describe Calvary, what would it be?

Transformative!

Share a fun fact about yourself!

I've complete 2 marathons, 3 half marathons, a duathlon (run/bike/run), and several 10-miler and 5K races.  One day I'll do a triathlon.
Evening volunteers such as Patrice assist our staff and residents by supporting our program for two hours shifts on week nights. If you would like to learn more about volunteering at Calvary, please contact Catherine Bisson at cbisson@calvaryservices.org or (202) 678-2341.