September 6, 2017
Volunteer Spotlight: Kendra Klossner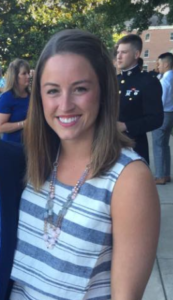 Kendra has volunteered at Calvary for two years. After attending the Hope Awards Dinner in 2015, Kendra decided to get involved with Calvary's mission by volunteering. She serves as an overnight volunteer at least once per month, and is always reliable – she's never missed a shift. Kendra is quick to sign up for overnight shifts whenever new dates are sent out, and has also supported Calvary through fundraising on Giving Tuesday and by serving on the Hope Awards Dinner Auction Committee this year.
Kendra commits 100% to everything she signs up to do for Calvary, and is a true Calvary advocate in her community. Kendra is a true asset to Calvary and the women we serve, and we're excited to spotlight her this month.
Where are you from?
Naperville, IL – a suburb of Chicago but my parents moved to Ohio so when I go "home", that's where I go.
Share a fun fact about yourself!
I've never had a cavity!
How are you involved at Calvary Women's Services?
I am an overnight volunteer and helped with the Hope Awards Auction this year.
How did you first hear about Calvary?
A colleague at Baker Tilly (consulting firm where I work) invited me to the Hope Awards Dinner as her guest.
Why do you volunteer at Calvary?
Living in one of the most expensive cities in the area with a high level of homelessness, and having people in my life who have struggled with substance/alcohol abuse and mental health issues, I wanted to find a way to help those who have the intersection of some or all of these incredibly unfortunate struggles. After attending Hope Awards, without knowing really what the organization was about, I was immediately hooked and wanted to get as involved as I could right away.
What do you like best about your work with Calvary?
While I know I probably don't make that much of an impact in the daily rehabilitation process at Calvary, what I like most is knowing that I'm somehow making a difference. Even though it may be on a smaller level, like helping a woman find a pillow or even saying "good morning", I'd like to think the small gestures help them realize they aren't alone and they have a strong support network behind them.
What has been your most memorable experience at Calvary?
My favorite experiences are always the Hope Awards Dinner. I absolutely love hearing a woman speak to her struggles, how she overcame them, and where she is now. Sometimes I have no idea their story until this day, so it's really meaningful to hear it and see how brave they are telling such a large crowd.
What has surprised you most about volunteering at Calvary?
How supportive this community is. From the women to the staff, everyone is so kind, thoughtful, and selfless.
What would you tell someone considering getting involved at Calvary?
Don't wait, don't hesitate, don't ask if you have enough time. There are so many different levels of commitment, there's no reason not to!
If you had to choose one word to describe Calvary, what would it be?
Empowering.