May 1, 2019
Sasha-Ann Simons, Reporter at WAMU, to Host the 18th Annual Hope Awards Dinner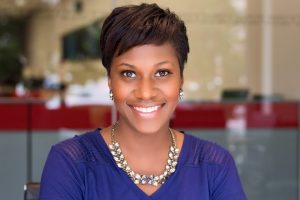 We are thrilled to have Sasha-Ann Simons, reporter at WAMU, hosting the 18th Annual Hope Awards Dinner. The event will take place on Wednesday, May 8th at the Capital Hilton from 6:00 to 9:00 PM.
PURCHASE YOUR TICKETS TO THE 18TH ANNUAL HOPE AWARDS DINNER
The Hope Awards Dinner is a vibrant celebration of women who are achieving major milestones in their lives and overcoming homelessness at Calvary Women's Services. It's also an opportunity to honor leaders who uplift and empower women.
Growing up in Kingston, Jamaica, Simons spent her formative years in Toronto, Canada. Studying broadcasting at Ryerson University, she worked in various Toronto newsrooms, including CityTV and Global Television Network.
Simons made Washington, D.C. her home after working as a radio and television host, reporter, and producer at WXXI News, the PBS and NPR member station in Rochester, New York, where she earned numerous awards. As a reporter, she also contributed to the PBS Newshour.
In 2017, Simons joined the WAMU team. She has moved from covering housing and urban development to race and identity in the region.
Be sure to join us for this incredibly inspirational evening. During the ceremony, we are excited to be presenting Congresswoman Jennifer Wexton with the Hope Award. We will also recognize Hilton as our Partner of the Year. Don't miss this wonderful opportunity to support women who are making lasting changes in their lives!