June 7, 2019
Calvary Women's Services Recognized as Red Hot Nonprofit by DCA Live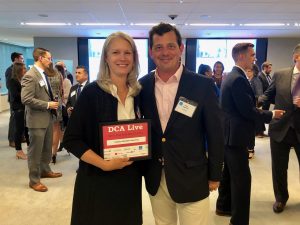 Washington, DC – Calvary Women's Services has been named one of 25 Red Hot Nonprofits by DCA Live, a group that spotlights the fastest-growing companies and most dynamic professionals in the Washington, DC region's legal, association and nonprofit, entrepreneur, federal tech, real estate, and corporate communities.
Other nonprofit honorees include:
• Becky's Fund
• Conservation International
• Epilepsy Foundation
• KaBOOM!
• RAINN
• SOME DC
Doug Anderson, Founder and CEO at DCA Live, was proud to count Calvary among the honorees. "We're thrilled to include Calvary Women's Services on our list of 2019 Red Hot Nonprofits. I have seen firsthand the profound impact that Calvary's programs have on homeless women in Washington, DC. Their holistic approach to providing housing, care, and support services to women is absolutely transformational. Women come out of their programs ready to lead successful, independent lives."
According to Kris Thompson, Chief Executive Officer of Calvary Women's Services, "Homeless rates in DC for single adults, particularly women, are on the rise. At Calvary, our innovative programs – which address the root causes of homelessness and give women space to heal from violence, addiction, and illnesses – change lives. Thank you to DCA Live for this recognition."
Calvary Women's Services is in the process of growing their programs. In the coming months, Calvary will be opening their doors to even more women, expanding their capacity by 80%. More women will have access to the vital resources they need to achieve independence.
ABOUT Calvary Women's Services: Calvary Women's Services empowers homeless women in Washington, DC, to transform their lives through housing, health, education, and employment programs. Each woman who comes through Calvary's doors has unique needs. With the right services and trauma-informed care, women are empowered to make lasting changes in their lives. Calvary is committed to providing these services in Anacostia, one of the most vulnerable neighborhoods in the District – and where it has been based for the past 7 years.
With over 35 years of experience, Calvary's model has been proven to work: women at Calvary are achieving their goals and ending their homelessness for good.
# # #
Reporters may contact: David Lothamer, 202-678-2341 ext. 223, dlothamer@calvaryservices.org