May 20, 2021
Honoring Melissa Bradley at the Hope Awards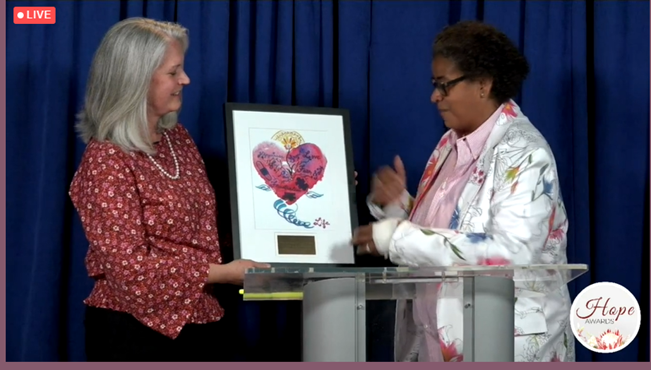 Last night, Calvary Women's Services celebrated the achievements of women who overcome homelessness and are empowered to reach their goals during the Hope Awards. We raised over $300,000 to benefit Calvary's housing, health, education, and employment services. This event included messages from Senator Kirsten Gillibrand and Mayor Muriel Bowser and stories from women at Calvary.
While reflecting on the last year, Kris Thompson, Chief Executive Officer at Calvary, noted, "Because we came together, Calvary never closed our doors. We never turned down any woman for a service she needed. When life is so challenging, hope can be the hardest thing to come by. But our community provided that to all of us."
The Hope Award is presented annually to a local leader who offers hope and empowerment to people in need. This year Calvary was thrilled to honor Melissa Bradley. With a lifelong commitment to empowering and investing in women, people of color, and those living in poverty, Melissa exemplifies these values.
Melissa Bradley, this year's Hope Award Honoree, spoke about the need for a holistic approach to problem solving, how Calvary's programs do just that in addressing the needs of women, and highlighted how the resilience and fortitude of the women at Calvary is contagious.
During the event, we also recognized DAVIS Construction as Partner of the Year. DAVIS has sponsored Calvary events, participated in events like the In This Together 5k, and provided in-kind services, including helping get apartments ready for women to move in and providing meals. Jim Davis, President of DAVIS Construction said, "This is exactly what we want to do, impact locally."
Sherylon, a graduate of Calvary's programs, welcomed us on a tour of her new home, and shared that when she thinks of Calvary, "Everything is possible, anything is probable. If you want to change your life, if you desire to have a better life, Calvary is there to help."
Teresa shared some of her story at last year's Holding on to Hope virtual event and returned this year to give us an update on her story. Teresa said, "I am so excited to tell you that that I accomplished everything I set out to do when I walked through the doors at Calvary. I made it to the other side. I'm employed, I moved out of Calvary and into my own home, and I did it during the pandemic. I did what I had to do, I put in the hard work, and it feels wonderful."
We premiered a new feature video, and saw how even with so many unknowns over the last year, at Calvary we have not only survived but thrived.
The gifts we received last night gave women hope – hope that it is possible to not only survive but to thrive.
Please join us in continuing to spread this message of hope by sharing this video and telling those in your community why you support Calvary.
Thank you to our presenting sponsor, MGAC. We are grateful to all of our sponsors and host committee members who helped make this event a success.
Thank you to our VIP reception special guests, Melissa Bradley, Tonia Wellons, and Ramunda Lark Young.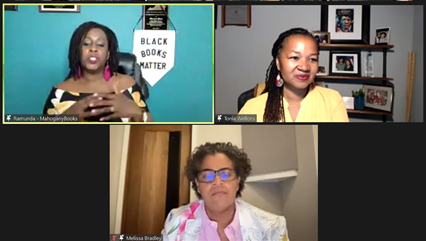 Thank you to everyone who joined us last night to give women hope that a world where we can all thrive is possible.
If you were not able to attend, but would still like to support women at Calvary, you can donate here. If you missed the event, you can watch a recording here.