May 2, 2023
2023 Hope Gala Recap
We're welcoming more women home each day, continuing to see shining rays of hope as women transform their lives. Your support of the 2023 Hope Gala is ensuring this growth possible!
This sold-out event brought together 400 Calvary supporters, making it our largest Hope Gala yet. With your help, we raised over $550,000 to directly benefit women in Calvary's housing, health, education, and employment programs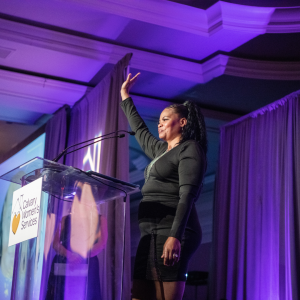 !
Barbie Jackson, a former client, shared her personal experience living at Calvary. She recounted how our programs empowered her to be independent and thrive:
"At the end of my time with Calvary, I was able to take over my lease and the full payments on my apartment. I felt independent again!"
"Since then, I have been promoted at my job and I am now leading a team. I was able to purchase a car to make it easier for me to get to and from work, and I see my grandkids every single weekend."
We recognized Capital One as the 2023 Corporate Partner of the Year Award Recipient. Capital One and its employees have supported Calvary's work for several years through grants for our financial literacy and housing programs, pro bono project support, and gift matching, enabling us to grow our programs to serve more women.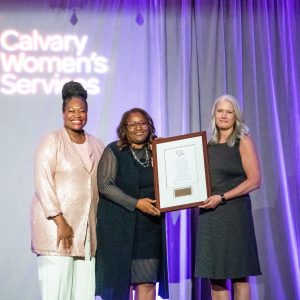 Dane Moist, Manager of Community Impact and Investment at Capital One, accepted Partner of the Year on the company's behalf.
Judith N. Batty, a former CEO of Girl Scouts of the USA, a current board member and past Chair of the Arena Stage Board and a former member of the Levine Music Board, received the 2023 Hope Award for her courage, confidence, and unwavering support of women and girls around the country. She shared inspiring thoughts on the meaning of hope:
"Hope is an action word; it requires goal setting, confidence, and courage."
Michele Lawrence Jawando, the 2022 Hope Award recipient, presented the award to Judith.